One of the most important nights of the year, The Primetime Emmy Awards, took over the TV and the internet on Sunday. In case you missed it, or just want to relive the best gifs moments, keep reading. Here's my 2015 Emmy Recap (in no particular order, because who cares when it happened as long as there's Amy Schumer gifs #amiright?)
1. Amy Poehler's category was announced and she looked a hungover college student that blacked out on a random Wednesday:

2. Jon Hamm won his first Emmy after 16 nominations and it reminded us of every time we come home from the gym: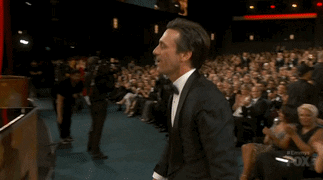 3. Viola Davis became the first African American woman to win Outstanding Lead Actress in a Drama and walked away like a bo$$ after her speech:
4. Amy Schumer won her first Emmy and squealed with her sister like girls do when they see their friend successfully flirt with a cute guy at the bar: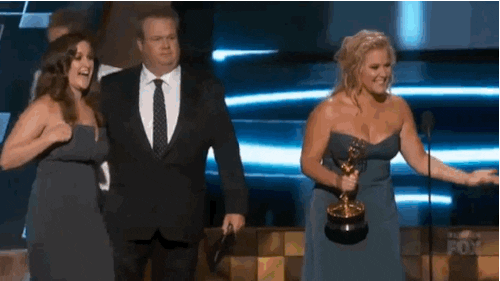 5. Matt LeBlanc looked like Joey Tribbiani yelling at Chandler and you immediately missed Friends: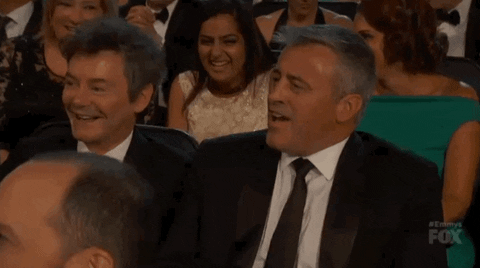 6. Tatiana Maslany became our spirit animal and looked like we did on the couch watching the show: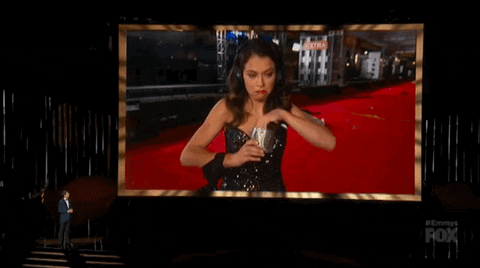 7. Andy Samberg reminded us why we stopped watching Girls: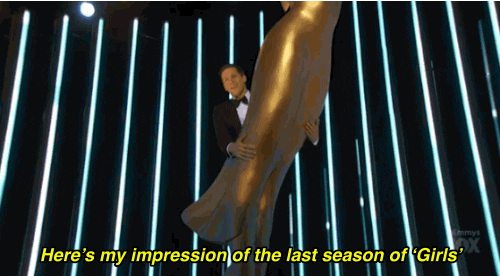 8.  Jon Stewart's writing team for The Daily Show won the award for writing in a variety series, and he took a step back and cheered for them like a soccer mom: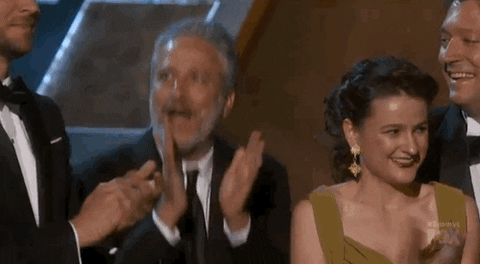 9. Tracy Morgan returned to the stage after his car accident and gave you all the #feels: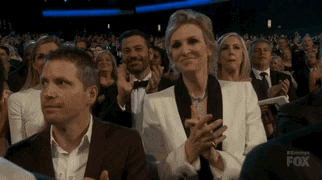 10. Sofia Vergara ate popcorn during the show and gave you inspiration to start bringing snacks with you everywhere because IDGAF:
11. Amy Schumer presented an award and her award show plans were the same as ours on GameDay: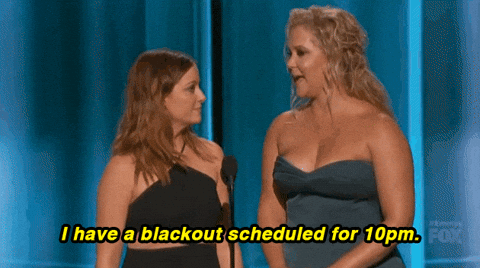 12. Uzo Aduba won Best Supporting Actress in a Drama and hugged her sister like college roommates saying goodbye for the summer: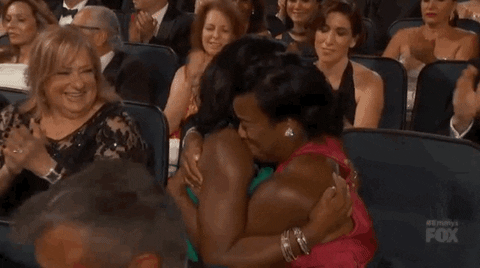 13. Terrence Howard kissed Taraji P. Henson and she played it off like it was her weird uncle on Thanksgiving: 14. John Stamos looked hot and made you seriously consider flipping to Nick @ Nite to watch Full House: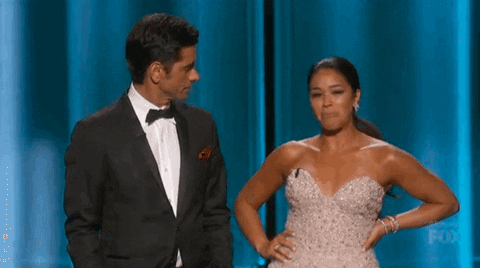 15. Amy Schumer wiped sweat off of Ryan Seacrest and you realized that it is the new best way to measure success:
16.  Louis C.K.'s facial expressions mimicked yours whenever you're talking to an authority figure:
17. Kerry Washington looked like this and you remembered Olivia Pope is going to be back into your life in 3 DAYS:
18. Andy Samberg looked like us at the end of every Netflix binge (aka once a week):
19. Amy Poehler made the perfect Monday face:
20. Ricky Gervais pretended to win an Emmy and fake cried better than all of the Kardashians:
21. Lady Gaga was #feelingherself on the Red Carpet and gave you inspiration for your next mirror pose:
22. Regina King won Outstanding Supporting Actress in a Limited Series and looked like a kid who had the perfect Christmas:
23. Kerry Washington looked like every girl taking Snapchats in public:
Thanks for all of the epic reaction gifs, Emmys!