Bachelor in Paradise is a gift to us all, and as a way to keep it as the gift that keeps on giving, here's a recap (with truly epic gifs) to bring together BIP fans and Josh Murray haters.
Josh, It's Not Okay
While Evan and Amanda were sitting in a tree (doing anything but k-i-s-s-i-n-g, despite Evan's efforts), Josh made love to a pizza in between naps and moaning. Seriously, I almost watched this episode on mute at the risk of throwing up my perfectly delicious sushi.
"Don't cry. Eat DiGiorno" – Josh comforting Amanda after Evan hit on her
And then it was back to making out.
And sweating.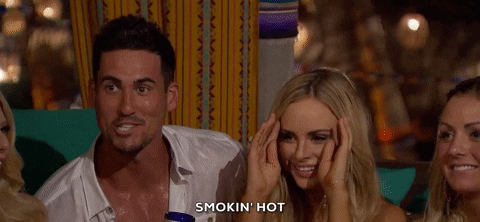 However, the drama for Mr. Moaning Myrtle did not stop there. Both Evan and Nick continued to talk to Amanda about Andi Dorfman's book: It's Not Okay, and in the battle of Nick vs Josh, I'm team Andi because if there's anyone who made me consider buying those dumb hair-strengthening gummies, it's Bachelorette 10 herself.
"I love you girl, but I've got to get back to the bar." – Lace (who gives me serious Malia Obama dancing at Lollapalooza vibes this episode) giving Amanda advice about trusting Josh
If only there was a copy of It's Not Okay in Paradise (I was hoping Jorge would be reading it behind the bar), so Amanda could see Josh is already proving everything Andi accused him of. Homeboy is controlling AF, but claims "God knows the truth." (Am I the only one who is thrilled there are celebrity memoirs in Heaven?)
"Live, laugh, love. Everything happens for a reason. Did you know life was like a box of chocolates?" – Josh
"There's an ocean of words, but no thoughts." – Evan
These two should team up and write greeting cards for Hallmark.
After the fighting, Amanda gave her rose to Josh and he went back to his true love: food.
You Can Go Shave Your Back Now
While Daniel does not have any serious romantic interests in Paradise, his bromance with Vinny is getting a lot of screen time. Does anything say bros like drinking water out of someone's bellybutton?
Perhaps shaving his back?
However, the major highlight of this episode was when Daniel almost got strung by a bee and declared,"A bee tried to impregnate my chin." Now I know Daniel is Canadian, but  I've seen every episode of Degrassi twice and this is not a thing.
Evan Can't Hang
After Evan's pickup line "As a dad, I know all about tell-all memoirs from Bachelor Nation" didn't work on Amanda, he set his sights back on Carly.
At first, our favorite cruise ship singer still wasn't into our favorite erectile dysfunction specialist…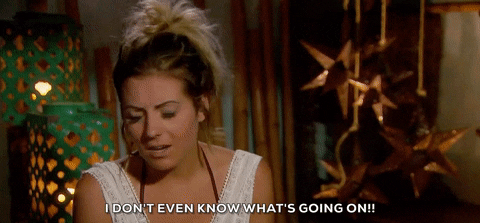 And then Evan drank too much and managed to get Carly in his bed. The Paradise EMTs (tbh it's unclear if they were real doctors) wanted to check on Mr. ED and the duo left for their romantic ambulance ride. Now that I know Evan's idea of a date is going to the hospital, I know everything I need to know about Evan.
"I'm back on the Evan train… even though I'm kind of terrified that he is going to drive it off a bridge because he might not be totally stable." – Carly
Miss Pantene
Enter Caila, who's hair is so big because it's full of secrets about Ben H. But seriously, is her hair that amazing or after a week in Paradise does everyone else's hair just look like shit?
Her other best quality? She brings out the Mean Girls side of Twin 1 and Twin 2.
"Emily is just as pretty as Caila. Emily is just as smart as Caila. People totally like Emily just as much as they like Caila. And when did it become okay for one person to be the boss of everybody, huh? Because that's not what Paradise is about. We should totally just *stab* Caila!" – Emily
"How do you spell Orange?" – Haley
The stepsisters lost their battle to Cinderella and were left with the lizard that probably helped Paradise's resident Disney Princess get ready.
The Fantastic Four
I've said it once and I'll say it until the finale, if Lace and Grant are the most functional couple, you know you have a problem. Grant, Lace, Izzy and Vinny headed to a foam party and it was unclear for a moment if America was watching the Bachelor or Jersey Shore. #Grace. #Vizzy. #Ratchet.
Then someone poured a pitcher of water on Izzy when Vinny was going to take a body shot off of her (#classy) and became my personal hero.
Kardashley
"Yeah, yeah, yeah. NOOOOOOO." –  These are the only words that Ashley I managed to say in between her tears for the entire hour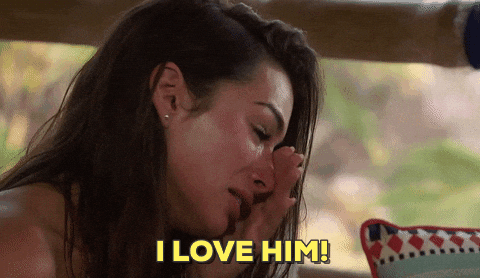 "Why are you so obsessed with me? Go out with Daniel, because everybody knows that you're lying that you're sexing me." – Jared (Mariah Carey should seriously consider reshooting the Obsessed music video with Jared)
I can honestly say I would rather be taken away by tribal men instead of listening to Daniel talk about his Canadian bacon.
"I love that Ashley wears her heart on her sleeve, but she's a virgin who can't drive." – Caila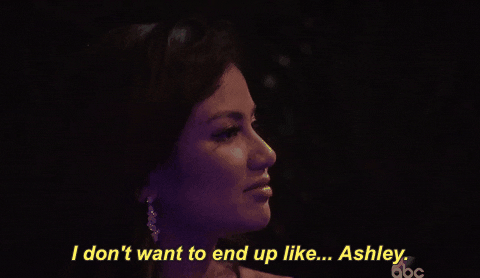 "I should have listened when people said nice guys finish last." – Jared
Jen, Who?
I'm so glad the twins found a talent. Maybe they should host After Paradise.
I have a hard time believing these are the only crabs in Bachelor Nation.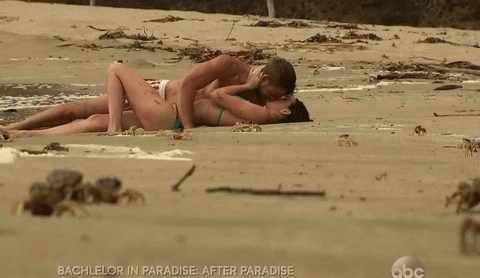 "Jen is going to make her mark in Paradise." – Caila "Nah." – Bach producers who showed 30 seconds of her date with Nick
And just when you think it's over, Guardians of the Galaxy Director James Gunn fangirls over the twins on After Paradise and Daniel is accused of being an alien. Sorry unREAL, but even you can't make this ish up.